Andreas Holst joins Aalborg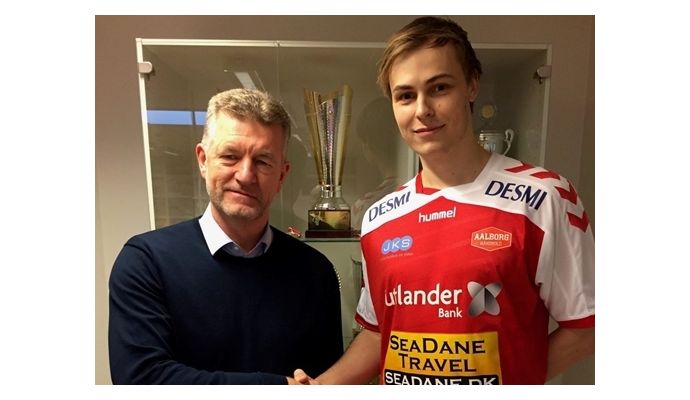 Photo: aalborghaandbold.dk
Written by: Rasmus Boysen
The 21-year-old talented Danish left back of the Danish league club GOG, Andreas Holst Jensen, has signed a 3-year contract with the Danish top club Aalborg Håndbold from next season to the summer of 2020 to replace Sander Sagosen.
Press release from Aalborg Håndbold:
Great talent Andreas Holst Jensen moves to Aalborg Håndbold
One of Danish men handball greatest talents, 21-year-old Andreas Holst Jensen, moves to Aalborg Håndbold next summer. It happens on a three-year contract.
The two-meter tall left-back was last season with the shooting GOG back in the top of the league and was selected for the A-national team before his cruciate ligament injury in the semifinals in May. His rehabilitation is on schedule, and he is expected back at the GOG team at the end of this season.
"We have for long had Andreas Holst in sight, and we are delighted that he has chosen to continue his career in Aalborg Håndbold. He has a great shot, a good eye for his teammates and is also a two-way player who also is strong on the defensive", says Jan Larsen, Aalborg Håndbold.
Andreas Holst Jensen is originally from Lemvig and as a junior turned out for both TTH Holstebro and Skanderborg Håndbold, before returning to childhood club in Lemvig, which he helped to play up in the Danish league for a few seasons ago. In 2014 he moved to GOG. He has played a number of youth national internationals and won the youth Olympics and U19 World Championship, along with Simon Hald and Christian Jensen (also players of Aalborg Håndbold, ed).
"I am delighted to come to Aalborg Håndbold, a club with big ambitions and with tradition to play for the medals in the league. It will be nice to get homecourt in Jutlander Bank Arena in front of the largest home crowd in Denmark," says Andreas Holst Jensen.