Bitter: "I do not exclude a change"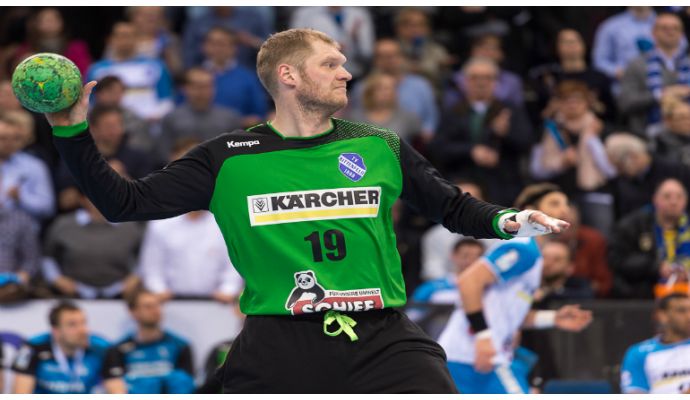 Photo: tvb1898.de
Written by: Rasmus Boysen
The experienced German goalkeeper Johannes Bitter does not rule out that he can move to THW Kiel.
Rumors about a change of the 35-year-old German goalkeeper Johannes Bitter from his current club TVB 1898 Stuttgart, where he has an expiring contract at the end of the season, to THW Kiel as successor of Andreas Wolff are still persistent. Hballtransfers.com first wrote about the rumors in early September (read more here). Andreas Wolff has signed a contract with the Polish champion Vive Kielce from 2019, when his contract expires (read more here), but rumors about an earlier exit from THW Kiel continues.
The German newspaper Kieler Nachrichten has made an interview with the 35-year-old former German national goalkeeper Johannes Bitter, where he among others states that "I do not exclude a change".
You can read some of the interview here:
Question: Mr. Bitter, how much do you miss Northern Germany?
Johannes Bitter: "Oh, that's really limited, because every week in Hamburg I'm with my three sons. All in all, I am very satisfied in Stuttgart."
Question: For you personally, it's also great: You are league-second with 131 parades and even seven-meter killer number one with 13 defused penalty throws.
Johannes Bitter: "I am satisfied, apart from the first two games. I enjoy great trust and take a lot of responsibility. It's great fun to give the team stability. And I enjoy liberties. But that was the deal from the beginning, that I can fly home regularly to see my children, because they are the most important thing. That's why in 2016 I did not accept offers from abroad after leaving HSV."
Question: World champion, Champions League winner, German champion - what's the attraction of playing with a top club again?
Johannes Bitter: "The appeal is always there, even if at some point in life, other things have a higher priority than the sporting success. So you have to weigh up: what is important? How can my private situation be linked to sport?"
Read the entire interview in the Wednesday edition of Kieler Nachrichten.
Johannes Bitter has previously played for the German clubs of SG VTB Altjührden, Wilhelmshavener HV, SC Magdeburg and HSV Hamburg. Furthermore, he has played 144 caps for the German national team.