VfL Gummersbach extends with duo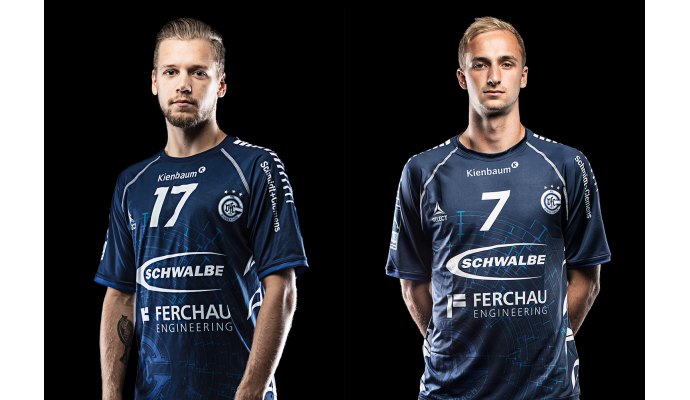 Photo: vfl-gummersbach.de
Written by: Rasmus Boysen
The German Bundesliga club VfL Gummersbach has extended the contracts with two players.
VfL Gummersbach has important news for the future. Both the German right back Florian Baumgärtner and the German left wing Marvin Sommer have extended their contracts expiring this season by two years to the summer of 2020.
"Florian and Marvin are two players who are very important building blocks in our future planning," says VfL sports director Christoph Schindler in a press release.
Florian Baumgärtner has been playing for VfL since 2015, where he was initially equipped with a secondary right to TuS Ferndorf and was slowly introduced to the professional team. "Actually, this is his first real season in the Bundesliga. Because he is the only left-hander in the backcourt, he still takes on a great deal of responsibility and does his job very well," says Schindler, commenting on the development of the 2.06-meter giant and predicting a promising future for the 22-year-old: "Of course, Florian still has his ups and downs in the game, but with even more play practice and even more confidence, he has what it takes to become one of the best left-handers in the backcourt in Germany. "
Above all, the confidence placed in him was also one of the key arguments for Baumgärtner to extend the contract: "I would like to return the trust of the club, which has been put into me in recent years, and look forward to the next at least two and a half years here. I want to get out of the table bottom with the team as early as possible and definitely strive for the upper midfield in the next few years and not play against relegation every year."



The Fantasy Game of the Women's Handball World Championship 2017. At least 200 Euro in prizes!

Also Marvin Sommer emphasizes the well-being effect with VfL Gummersbach and that, although he was only briefly committed in the middle of August from the SC DHfK Leipzig. After the serious injury of left wing Kevin Schmidt committed the VfL the 25-year-old, who proved to be an absolute stroke of luck and needed in the team. "He is not just a substitute this season, but a reinforcement in the position. Marvin immediately became a top performer, so I'm all the more pleased that he will continue to be with us throughout the season," says VfL sports director Christoph Schindler.
"I also chose VfL because in many respects there was a lot of effort to keep me here. In addition, I see Gummersbach as a complete package as the best way to develop, to get a lot of games and to personally take the next step. I believe that the club works hard to develop and play a more stable role in the league. I would like to help, and that's why I chose VfL," Marvin Sommer states.