Danish initial squad for WC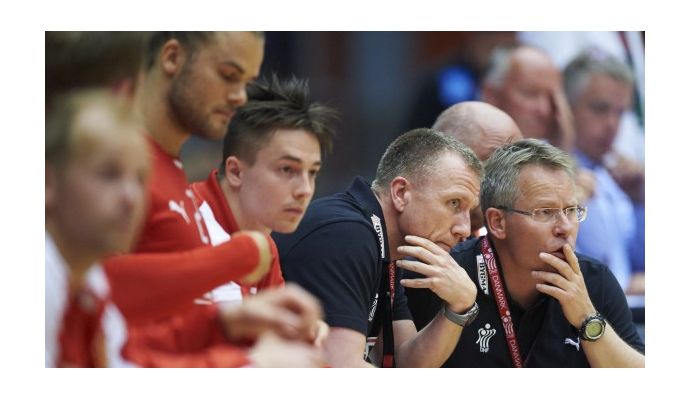 Photo: DHF.dk
Written by: Rasmus Boysen
The Danish national coach, Gudmundur Gudmundsson, has taken out his 28-man initial squad for the World Championship in France in January.
The initial sqaud consists 28 names, and the final World Championship squad of 16 players is taken out prior to departure in January.
"Over the next few days I take out 19 players, who will meet in the joint between Christmas and New Year, and so there may be some substitution toward Bygma Cup before the final World Championship squad is removed prior to our departure for Paris on January 11," says Gudmundur Gudmundsson about the upcoming program.
The back court player of SG Flensburg-Handewitt, Rasmus Lauge Schmidt, is not ready on top of his injury and is therefore not selected for the squad.
Initial squad:
Goalkeepers:
Niklas Landin, THW Kiel
Jannick Green, SC Magdeburg
Kevin Møller, SG Flensburg-Handewitt
Sebastian Frandsen, Bjerringbro-Silkeborg
Wings:
Lasse Svan Hansen, SG Flensburg-Handewitt
Hans Lindberg, Füchse Berlin
Tim Sørensen, IFK Kristianstad
Magnus Bramming, TTH Holstebro
Casper U. Mortensen, TSV Hannover-Burgdorf
Magnus Landin Jacobsen, KIF Kolding København
Line players:
Anders Zachariassen, SG Flensburg-Handewitt
Henrik Toft Hansen, SG Flensburg-Handewitt
Jesper Nøddesbo, FC Barcelona
Alexander Lynggaard, St. Raphael Var
Rene Toft Hansen, THW Kiel
Simon Hald Jensen, Aalborg Håndbold
Back court players:
Mikkel Hansen, PSG
Lasse Andersson, FC Barcelona
Michael Damgaard, SC Magdeburg
Martin Larsen, Aalborg Håndbold
Henrik Møllgaard, PSG
Niclas Kirkeløkke, GOG
Kasper Søndergaard, Skjern Håndbold
Morten Olsen, TSV Hannover-Burgdorf
Mads Mensah Larsen, Rhein-Neckar Löwen
Allan Damgaard, Bjerringbro-Silkeborg
Nikolaj Markussen, Bjerringbro-Silkeborg
Frederik Kiehn Clausen, GOG
Denmark is in group D with Qatar, Sweden, Egypt, Bahrain and Argentina in the World Championship in January.