Sweden's squad for the European Championship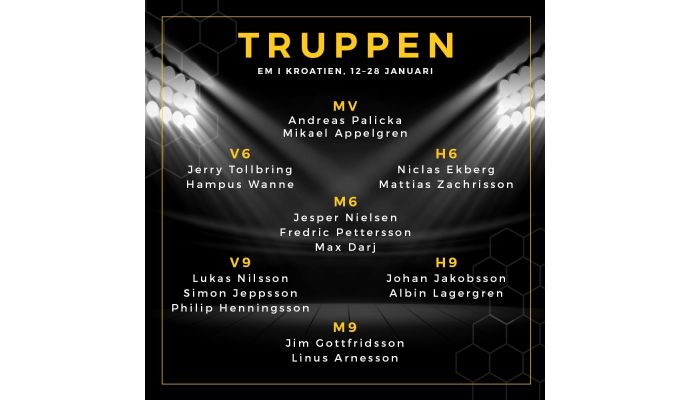 Photo: handbollslandslaget.se
Written by: Rasmus Boysen
The national coach of Sweden, Kristjan Andrésson, has named his squad for the European Championship in January in Croatia.
The biggest surprise of the squad is, that the pivot of Telekom Veszprém, Andreas Nilsson, has backed out. He has recently become a father and will use January with his family.
Furthermore, players like Viktor Östlund, Markus Olsson, Philip Stenmalm, Jesper Konradsson and Emil Frend Öfors have been deselected.
In a press release from the Swedish Handball Federation, the national coach of Sweden Kristjan Andrésson states the following:
"Of the players I have to choose, it's these 16 that I think can take Sweden at the top of the tournament. Hampus Wanne plays 60 minutes per game in the top team in the Bundesliga, Philip Henningsson has strong defensive qualities and Linus Arnesson impresses both forward and in defense in Bergischer at the top of the the 2nd Bundesliga. Andreas (Nilsson, ed.) is a new daddy and wants and needs this time with his girlfriend and son. We lose a world-class player, but I fully respect his decision. There are more championships."
The 16 players:
Left wings:
Jerry Tollbring, Rhein-Neckar Löwen, Germany, 33/107
Hampus Wanne, SG Flensburg-Handewitt, Germany, 4/7
Left backs:
Lukas Nilsson, THW Kiel, Germany, 40/103
Simon Jeppsson, SG Flensburg-Handewitt, 17/34
Philip Henningsson, IFK Kristianstad, 4/6
Playmakers:
Jim Gottfridsson, SG Flensburg-Handewitt, Germany, 50/176
Linus Arnesson, Bergischer HC, Germany, 4/5
Right backs:
Albin Lagergren, IFK Kristianstad, Sweden, 23/57
Johan Jakobsson, IK Sävehof, Sweden, 114/250
Right wings:
Niclas Ekberg, THW Kiel, Germany, 153/640
Mattias Zachrisson, Füchse Berlin, 102/217
Pivots:
Jesper Nielsen, Paris Saint-Germain, France, 86/107
Fredric Pettersson, Fenix Toulouse, France, 27/37
Max Darj, Alingsås HK, Sweden, 23/12
Goalkeepers:
Andreas Palicka, Rhein-Neckar Löwen, Germany, 71/1
Mikael Appelgren, Rhein-Neckar Löwen, Germany, 60/1